Dog and cat sitter and walker

---
---
Gabriela
· 18 years experience
Pet Sitter or Pet nanny, I offer Boarding dogs, Boarding cats, Dog walking, in Bucureşti
I grew up with dogs and cats and I am a better person because of them.
---
Bucharest, Romania

0
No

---
Pets I can visit:

Cats Dogs
Pets I can board:

Cats Dogs
---
Friday after 5pm to Sunday until 10 pm
---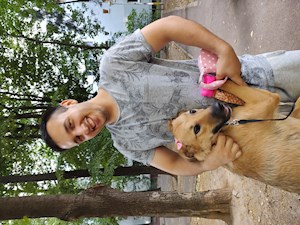 Florea
Este și păcat să nu existe o recenzie pe pagina ei. In viitorul apropiat îmi voi lăsa cățelușa la Gabriela și țin să menționez că am o cățelușă foarte emotivă motiv pentru care am dorit să îi găsesc un nanny pe măsură. Drept urmare azi am avut prima întâlnire pentru a vedea cum reacționează Daisy in preajma Gabrielei și țin să menționez că a fost foarte relaxată. Mi-a dat o stare de liniște să văd că e fericită și sunt ferm convins că Daisy se va simți ca în vacanță. Cât despre Gabriela, nu ai cum să fii îngrijorat/ă că îți lași câinele pe mâna altcuiva, este super, are un vibe atât de pozitiv. Nu ezitați să apelați la ea! "The best in town!"
03/09/2022
· Pet Sitting
---
Review
---
Bucureşti
,
dog walking
,
cat boarding
,
dog boarding